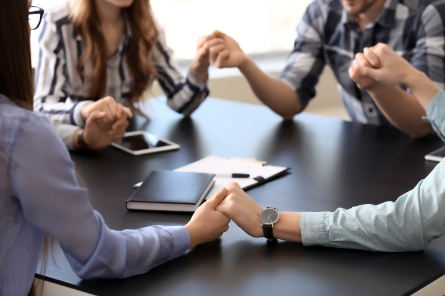 If you're passionate about serving Christ, and desire to live the adventurous life of faith, start the process by filling out our Union Gospel Mission Ministry Application
Union Gospel Mission often has opportunities for employment at our 4 various locations.
We call our employees Missionaries, because those who work here have a passion for serving Christ. The rewards are beyond description, and God is faithful in providing for the needs of the Mission and its missionaries!
Missionaries truly walk by faith, and how exciting it is to see how God "gives us this day our daily bread."
Each position will have specific qualifications. The general qualifications listed apply to every position.
1. You need to know Jesus Christ as your personal Saviour
2. You must be an active member in an evangelical Church
3. You need to have a passion to help others know Jesus Christ as their personal Saviour
4. You should know how to lead someone to Jesus Christ
5. We are looking for those who are team players
6. You must lead a life-style that is sexually in line with God's Word
7. You cannot be a smoker or a user of alcohol and illegal drugs
8. Must sign statement of faith
9. Must be legally allowed to be employed in Canada
We have an exciting opportunity for someone gifted with financial administration skills, to be an integral part of our finance team.
Some Responsibilities:
Provide leadership, direction and oversight for all of UGM's financial records and processes.
Work in a team environment to serve and support UGM's front line workers.
Desired Qualifications:
Agree with our statement of faith and meet qualifications for employment.
Understanding and working knowledge of the deferral accounting method, depreciation, audit, budget, equity funds, investments and executive level reporting.
Experience working in an Accounting and/or Finance role with being familiar with "Accounting Standards for Not-for-Profit Organizations (ASPNO) and the CRA Charity Return.
Applicants must currently be legally allowed to be employed in Canada.
Front Desk Reception – Casual Position
We are looking for a person to cover the front desk at 320 Princess St location on a casual basis. This could include shifts during the day, evening or overnight if available.
This person is to make every person who comes into contact with the Union Gospel Mission, either by telephone or in person to feel welcomed, encouraged, and served in a Christ-like manner.
Operate the telephone and paging system in a professional manner. Monitor security cameras in and around building. Receive donations of clothing and food items and fill out donation slips. Accurately log medication given to residents.
Casual Residential Support Worker – Charis Centre
We have a wonderful opportunity for someone who is passionate about the Mission and would like to utilize their skills and experience for God's purposes.
Duties include:
Maintain security and safety in the buildingMaintain security and safety in the building
Ensure that residents in the recovery programs are adhering to program expectations
Willing to facilitate devotions and prayer with the residents