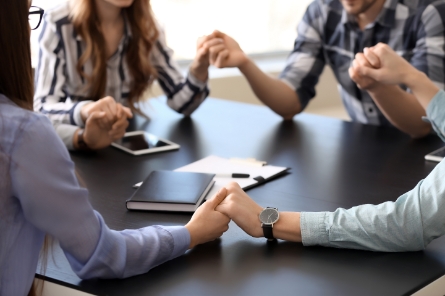 If you're passionate about serving Christ, and desire to live the adventurous life of faith, start the process by filling out our Union Gospel Mission Ministry Application
Union Gospel Mission often has opportunities for employment at our 4 various locations.
We call our employees Missionaries, because those who work here have a passion for serving Christ. The rewards are beyond description, and God is faithful in providing for the needs of the Mission and its missionaries!
Missionaries truly walk by faith, and how exciting it is to see how God "gives us this day our daily bread."
Each position will have specific qualifications. The general qualifications listed apply to every position.
1. You need to know Jesus Christ as your personal Saviour
2. You must be an active member in an evangelical Church
3. You need to have a passion to help others know Jesus Christ as their personal Saviour
4. You should know how to lead someone to Jesus Christ
5. We are looking for those who are team players
6. You must lead a life-style that is sexually in line with God's Word
7. You cannot be a smoker or a user of alcohol and illegal drugs*
8. Must sign statement of faith
Weekend Chaplain Position
We have an exciting opportunity for someone who has a passion for sharing the love of the Lord Jesus Christ with the poor and homeless in our community.
This position involves serving as a chaplain at our 320 Princess Street location, from 12:30 pm until 8:30 pm, every Saturday and Sunday.
Duties and Responsibilities:
Supervising the weekend afternoon drop-in services
Supervising the weekend evening chapel services
Weekend supervision of the men's recovery program
Providing biblical counsel and prayer to recovery residents and street guests
We are in search of a chaplain to join our team at 320 Princess. The hours are from 12:30 PM until 8:30 PM, from Monday to Friday.
Some duties include:
teach class for the men's program
provide counselling support to the men's program and street ministry
supervise and occasionally preach a message at chapel services
Assist with drop-in services
Princess Street Centre Manager
We have an exciting full-time opportunity for someone who has a passion for leading our men's addiction recovery and street ministries.
SOME QUALIFICATIONS ARE:
Agree with our statement of faith and meet qualifications for employment
Have a growing, vibrant relationship with Jesus
Passion for people struggling with poverty and addiction
Passion to see men become disciples of Christ and be freed from addiction
Experience working in the addictions field
Experience working with people struggling with poverty
Click on Details Button for more information.
We are looking to hire a Science Teacher for a .25 position. This position is currently scheduled for 2:00 to 3:30 pm daily, at 220 Pritchard Street. Faith Learning Centre is a Christian Ministry of Union Gospel Mission that offers adult high school education.  We have an exciting opportunity for someone who would like to utilize their skills and experience for God's purposes.
DESIRED QUALIFICATIONS:
Bachelor of Education degree
Valid Manitoba Teaching certificate
Experience in the following areas: Science 10F, Science 20F, Biology 40S, Chemistry 40S
Possess a philosophy that all students can learn
Passion for people struggling with poverty or addiction
Clear child abuse registry and criminal record check
Agree with our statement of faith and meet qualifications for employment
Have a desire to share your faith and prayer life with staff, volunteers and students
Charis Weekend Casual Cook
We have a casual cook position that would work weekends, holidays and on-call.
This person would be someone who is passionate about the Mission and would like to utilize their skills and experience for God's purposes.
Some Duties include:
Supervise cooking and meal preparation. Cook as required and serve the meals on time as scheduled.
• Prepare coffee breaks and refreshments.
• Prepare special event meals as requested.
• Oversee dining area to ensure a clean attractive setting.
Meals you are responsible for:
Lunch: 12:00
Afternoon coffee break
Dinner: 4:45
We are looking for an individual to work in the Drop-in Centre at 320 Princess St on the weekends.
This position is from 1:30 pm until 4:30 pm every Saturday and Sunday.
Duties include: Helping to put out the food and beverages for drop-in,
Serving the food and beverages to the street guests
Assisting with handing out clothing to street guests when needed
Visiting and sharing the gospel with street guests whenever possible
Front Desk Reception – Casual Position
We are looking for a person to cover the front desk at 320 Princess St location on a casual basis.
This person is to make every person who comes into contact with the Union Gospel Mission, either by telephone or in person to feel welcomed, encouraged, and served in a Christ-like manner.
This could include shifts during the day, evening or overnight.
Email mark.kelm@gospelmission.ca for further details.