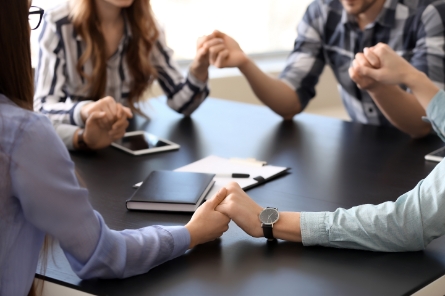 If you're passionate about serving Christ, and desire to live the adventurous life of faith, start the process by filling out our Union Gospel Mission Ministry Application
Union Gospel Mission often has opportunities for employment at our 4 various locations.
We call our employees Missionaries, because those who work here have a passion for serving Christ. The rewards are beyond description, and God is faithful in providing for the needs of the Mission and its missionaries!
Missionaries truly walk by faith, and how exciting it is to see how God "gives us this day our daily bread."
Each position will have specific qualifications. Listed below are general qualifications that apply to every position.
1. You need to know Jesus Christ as your personal Saviour
2. You must be an active member in an evangelical Church
3. You need to have a passion to help others know Jesus Christ as their personal Saviour
4. You should know how to lead someone to Jesus Christ
5. We are looking for those who are team players
6. You must lead a life-style that is sexually in line with God's Word
7. You cannot be a smoker or a user of alcohol and illegal drugs*
8. Must sign statement of faith
*We occasionally get asked about the reasoning behind the 7th qualification. We acknowledge that our standard regarding the use of alcohol may be higher than Scriptural teaching. However, the vast percentage of people who look to us for help are dealing with addictions and their ravaging effects. To be of maximum help to them, we have set this standard. Alcohol is a real weakness for so many in our ministry that to use it would cause grounds for stumbling. We are, in a very real way, helping those that are weaker and those yet to become believers. We seek to follow Romans 14:13-21 – not to judge others who disagree with our position, but to help those who desire to be freed from the devastation of addiction.
Teacher – Math and Science (.75 FTE) – Immediate Need
We have a wonderful opportunity in our Adult Education Program at Faith Learning Centre, teaching math and science to our adult class.
Casual Residential Support Worker – Charis Centre
We have a wonderful opportunity for someone who is passionate about the Mission and would like to utilize their skills and experience for God's purposes.
Duties include:
Maintain security and safety in the buildingMaintain security and safety in the building
Ensure that residents in the recovery programs are adhering to program expectations
Willing to facilitate devotions and prayer with the residents
We are in search of a chaplain to join our team at 320 Princess. The hours are from 12:30 PM until 8:30 PM, from Monday to Friday.
Duties include:
teach class for the men's program
provide counselling support to the men's program and street ministry
supervise and occasionally preach a message at chapel services
We are looking for an individual to work in the Drop-in Centre at 320 Princess St on the weekends.
This position is from 10:00 am until 6:00 pm every Saturday and Sunday, until February of 2022.
Duties include: Helping to put out the food and beverages for drop-in,
Serving the food and beverages to the street guests
Assisting with handing out clothing to street guests when needed
Visiting and sharing the gospel with street guests whenever possible
Front Desk Reception – Casual Position
We are looking for a person to cover the front desk at 320 Princess St location.
This person is to make every person who comes into contact with the Union Gospel Mission, either by telephone or in person to feel welcomed, encouraged, and served in a Christ-like manner.
If interested, please fill out our Application form on our website, or call 204-943-9904 to request a copy.