UGM Video Premiere – "It's All About Him – Jesus"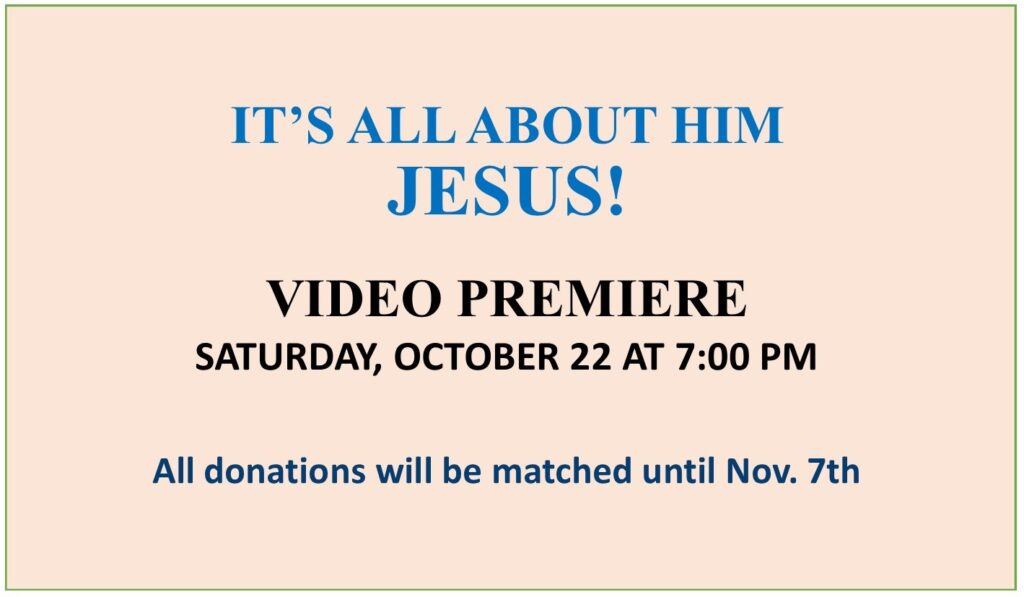 We are excited to invite you to watch the premiere showing of
"It's all about Him – Jesus"

.
It is a recording , just over 32 minutes long, that is intended to be God honouring, as our priority. After all, He is the reason for our existence!
"CLICK HERE to WATCH" on, or after, 7 pm, Saturday, October 22nd. 
Those who have already reviewed this video, have called it instructive and emotional.
May we encourage you to consider inviting friends, neighbors and family to
watch the event together?
As we face another Winnipeg winter, we are striving hard to be prepared for the increasing need for physical, practical, and spiritual help. In keeping with this, we are excited that an anonymous donor has offered to match every dollar that is raised because of watching our video and being moved to respond by prayer ( the greater work) and by giving (any amount given from the heart has an incalculable multiplication factor in the Lord's hand). 
Donations for this Video will be fully matched until November 7th.
Click here to donate by Credit Card
(Please make a note of "Video" on cheques, etransfers, and other donation methods.)
Thank you and may God Bless and keep you!