You know what it's like feeding a family of 4 or 5 – but how about over 300 people every day? Food bags are also given out daily to our street guests, as well as an emergency food hamper to families in need. We count on God's provision, and it seems that He provides through people, rather than dropping manna from heaven! There are many ways that you can be a part of the Lord's provision!
Meal-A-Day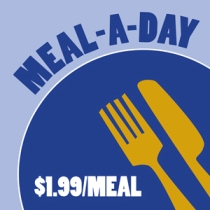 We've tried to break it down, looking at the costs of serving a meal. We've factored in costs like kitchen salaries, kitchen utility costs, transportation costs, etc. The average cost of a meal is $1.99. You could help by paying the costs a few meals. For instance, you could send in a donation indicating that you'd like to pay for 68 meals, for a total amount of $135.32 – just an example. That is a very practical and helpful way to assist us.
Donate
Individually, you could donate food items directly to 320 Princess St. location.
As a Church, you could collect a number of items through our THanksgiving Every Month, 'THEM' program (near the bottom of the 'how to donate' page) and bring them to the Mission.
What kind of food items? Anything edible! All canned goods, meat, vegetables, fruit, salt, pepper, pasta, fish, milk, butter, etc.
NEEDS LIST
Perhaps you are a part of a business that is in the food industry. We are so thankful for the businesses that donate food to us – frozen foods, butchered meats, processed meats, even food that is getting close to its 'best-before' date. You don't realize how much you could help!
Or, perhaps you're a farmer of vegetables, livestock, chickens, etc. Some give of their excess to the Mission.
We have seen God provide so abundantly through individuals, through businesses and through Churches. As the Mission continues to give, the need increases. Is there anything that the Lord is prompting you to give?