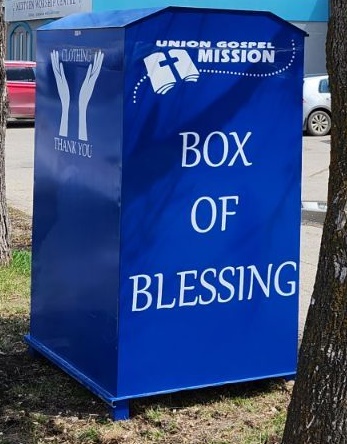 Union Gospel Mission's newer and larger "Box of Blessings" Clothing Donation Program (some are still named as 'TOSS BOXES) provides essential resources to those we serve, with 100% of donations bringing help to those in need. We give the best clothing freely to the needy, and recycle the surplus clothing to assist in many other vital programs.
Items that can be donated into the BOX of BLESSINGS are:
Clothing, Purses, Belts, Shoes, Jackets, Hats, Linens, Towels.
New underwear for men and women are a huge and continual need!
Winter items: Hats, mitts & gloves, winter jackets & boots
Summer items: sandals, shorts, spring jackets, caps
---
Scroll down for a map of the locations.

---
Click below for the Toss Box Brochure.
If you are NOT near one of our Clothing Bins, you can donate at 320 Princess St., or to one of the following Thrift Stores.  By donating to them you are also donating to UGM.  These Thrift Stores donate regularly (weekly or monthly) to Union Gospel Mission.  Please check with them as to what items they can take.

* Portage La Prairie MCC  
* Carman MCC  
* Morris MCC   
* Grunthal MCC  
* Riverton MCC  
* Austin MCC
* Kildonan MCC – Winnipeg  
* Sargent MCC – Winnipeg  
* Selkirk MCC – Winnipeg   
* Gladstone Treasure Chest
* Nine Lives Fashions – Carman

If you know of a location (business) that would be willing to host a BOX of Blessings bin;
Contact: Martin Chidwick, Development Manager at 204-943-9904 ext. 237, or email martin.chidwick@gospelmission.ca.
Location